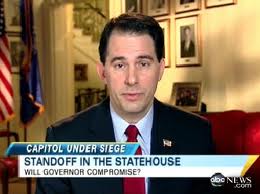 On Friday, April 1, 2011, the Wisconsin state governor Scott Walker signed into law an immensely controversial bill passed by that state's legislature the previous evening despite death threats, intimidation, and large demonstrations by organized labour supporters. The new law effectively puts this Midwestern state's public-sector unions on a diet of low-fat cheese at a time when many American states and municipalities are teetering on the brink of bankruptcy. The consequences of such defaults on state and municipal financial obligations would be profound.
The Wisconsin Republican governor, arguing that he was elected in order to make the tough decisions needed by the times, successfully pushed this change in the law. Walker consistently said that both the state and its local governments needed it in order for them to balance their budgets. Without it, large numbers of public employees would have to be laid off, and/or taxes would be increased.
The new Wisconsin law effectively reduces the power of some public-sector labour unions. It limits future public employee pay raises to the inflation rate, requires public-sector unions to hold annual certification votes, and no longer allows those unions to collect their union dues directly from their member's pay cheques. The revised law also requires public employees to make greater contributions to their pension and medical plans.
For decades now, public-sector labour unions have been the fastest growing part of the organized labour movement in North America. These unions have secured for their members high wages and pension benefits that are often far more generous than those accessible to the average joe in the private sector.
When the North American economy was significantly growing in girth by leaps and bounds such generosity to its public employees seemed affordable. But since the economic shock of 2008 and the accompanying severe decline in tax receipts, it has become inevitable that an obese public sector would have to start dieting for the long-term good of their communities.
While the Wisconsin legislators were bravely running the gauntlet of protesting, high-fat demanding, cheese-heads in their quest to skim the state's milk, I was sitting in a non-descript Nanaimo high school meeting room listening to our local school district's parent advisory council discuss the cuts that will have to be made in the district's budget.
In Nanaimo, we don't even have low-fat dairy creamer for DPAC representatives' tea or coffee—just that phony white plastic-fat powder. Should we recommend that the school district charge parents for the privilege of allowing their kids to take the school buses? Maybe we should advocate charging teachers for their parking spaces in the school lots? Cuts to programs? Close schools? Two weeks for spring vacation instead of one? Even if we suggested selecting all of the above that still wouldn't find us the necessary 3 to 4 million dollars in cuts our school district will need to make in 2011-2012 to balance our schools' budget.
The problem is that of our $120 million annual school budget 93% is wages—most of which is negotiated by the Province of British Columbia with its educational public-sector unions and is untouchable. That leaves roughly 7% or $8.4 million to fund the district's educational programs and to buy stuff like texts books for all students.
I pointed out at our DPAC meeting that, if our priority goal was really to educate young people, then budget cuts should come from the 93% of the budget going to public-sector employees rather than from the 7% needed to provide students with quality programming. Yet, most likely, the $3-4 million in cuts will come from this remaining 7% of the budget used for our students because this cut will cause the least amount of controversy among the arguing interested groups. But this means a devastating potential reduction of 35 to 47% in our ability, in dollar terms, to create effective and relevant educational programs for our young people!
But I'm sure when the open public meetings start on this problem next week in Nanaimo that we will have as many hard feelings and heated arguments expressed as have the people in Wisconsin.
It would seem that in our contemporary wrangling over public budget shortfalls that we could all use a reminder from the Apostle Paul about how we should approach working out what's really in the best interest for our communities as a whole:
Do nothing from selfishness or empty conceit, but with humility of mind regard one another as more important than yourselves; do not merely look out for your own personal interests, but also for the interests of others. Have this attitude in yourselves which was also in Christ Jesus (Philippians 2:3-5 New American Standard Bible).